On Friday, Hong Kong stocks fell in shock after opening flat, and then the decline narrowed. As of the closing, the Hang Seng Index fell 0.49% to 26667.39; gold and precious metals rose on the market, while copper media stocks fell. In individual stocks, Ping An fell 3.86%, Budweiser Asia Pacific fell 2.62%, Vanke enterprises rose 0.18%, Tencent holdings fell 0.75%. Overall, the Hang Seng Index fell 0.2% in a week, the national index fell 0.7% in a week and the red chip index fell 0.55% in a week.

On the US side, investor confidence was boosted. Last week, the Dow Jones industrial average rose more than 200 points in the middle, while the S & P 500 index was close to a record high, and the three indexes ended up collectively. In terms of sectors, energy and communication sectors rose; market risk appetite increased, while defensive real estate and public shares fell.

In terms of stocks, Amazon's profit fell for the first time in two years, exceeding 4% in intraday trading, closing down 1.09% on Friday; Intel's third quarter performance was ideal, closing up 8.1% on Friday; Tesla's closing up 9.49% on Friday; blockchain concept was hot, and thunder's closing up 107.76% on Friday, doubling its share price. Overall, the Dow rose 0.7%, the NASDAQ 1.9% and the S & P 500 1.2% in a week.

【One week outlook】
Looking forward to the future market of Hong Kong stocks, some analysts say that although the market is not very controversial about the US interest rate resolution next week, investors are concerned about Powell's statement on next year's interest rate, which may have some impact on Hong Kong stocks. Recently, Hong Kong stocks have fluctuated in a narrow range around 26600, up and down no more than 200 points, which is believed to be a strong defensive strength. If investors are interested, it can be seen that as soon as the Hang Seng Index falls to this level, it will start to make a multi Bo rebound. In addition, Apple's mobile phone sales in Southeast Asia seem to be better than expected, and I believe that there is conduction support for mobile device stocks.

According to British securities, companies with different rights in the same share are interconnected with each other or trigger the next wave. Last Friday, Shanghai Stock Exchange and Shenzhen Stock Exchange finally determined the specific arrangement for companies with different rights to divide Hong Kong stock connect, which means that by the end of this month, mainland investors can directly buy meituan reviews and millet through Shanghai Shenzhen Hong Kong stock connect. Although the policy has been expected and meituan has responded in advance, the market is looking forward to Beishui injection driving the whole new economic sector to catch up, which also helps Alibaba return to Hong Kong stock listing within the year.

Looking forward to the future of US stocks, Graf, founder and chairman of Renaissance macro research, and rose, the technology analyst of evercore ISI, both pointed out that US stocks are entering the most favorable season. The stock trader's Almanac said November was one of the best months for U.S. stocks, but November, the year before the election year, was not so good.
【Events of the week】
In the early hours of Thursday, the Federal Reserve will hold a resolution on October interest rate, and the Bank of Japan and the Bank of Canada will discuss interest rate one after another this week.JPMorgan believes that the Federal Reserve's policy statement in October should be a little more hawkish than that in July and September, and may even indicate that the interest rate cut has balanced the risk of the economic outlook. But even so, the Federal Open Market Committee (FOMC) may reserve some possibility for further easing in December or later.
The bank does not expect the Federal Reserve to make technical adjustments to the excess reserve rate, and the statement may not mention recent temporary / routine open market operations, although Powell may mention these issues in a post meeting press conference. In addition, Tom Porcelli, chief U.S. economist, capital markets division, Royal Bank of Canada, pointed out:
"The seven officials who asked for another rate cut this year are all members of the FOMC's voting Committee, which means they have a majority of seats on the Committee."

Some analysts believe that disagreements within the Fed will make the Fed suspend operations after the meeting and take a wait-and-see attitude before further interest rate cuts. Economists pointed out that the three consecutive interest rate cuts met the historical definition of "mid cycle adjustment" by Federal Reserve Chairman Powell, who first proposed this year's first interest rate cut.

According to CME's "Federal Reserve observation", as of the release, the probability of the Federal Reserve cutting interest rates by 25 basis points to 1.50% - 1.75% in October is 93.0%, and the probability of maintaining the current interest rate is 7.0%; the probability of cutting interest rates by 25 basis points to 1.50% - 1.75% in December is 72.1%, the probability of cutting interest rates by 50 basis points is 22.7%, and the probability of maintaining the current interest rate is 3.9%.

Before and after the resolution of the Federal Reserve interest rate, the initial value of the real GDP annualized quarterly rate in the third quarter of the United States, the number of ADP employment in October, the non-agricultural employment after the quarterly adjustment in October, and the unemployment rate in October will be released.

Analysts expect GDP to fall to 1.4% - 1.6% in the third quarter from 2%. Historically, the U.S. economy has grown by more than 3% a year, but the last time it reached that level was in 2005. Most economists believe that the current economic growth in the United States is unlikely to exceed 2%, at least in the longer term.


As for non-agricultural data, economists expect less than 100000 jobs to be created in the US last month, the lowest level since May and one of the lowest in seven years.
【Hot Enterprise News】
Apple will release fourth quarter results of the fiscal year iPhone sales optimism does not change Apple's downward trajectory
Apple will release fourth quarter results for fiscal 2019 after Wednesday. In recent days, Apple's share price has continued to soar, hitting record highs several times in the past week. The reason for the good performance of Apple's share price is that the company's new iPhone sales are strong. However, the current market expectations do not fully support the optimism of Apple investors on the fourth quarter results.

Analysts surveyed by FactSet believe Apple's revenue is expected to record $63 billion, almost the same as $62.9 billion a year earlier. The report will put an end to fy2019, and analysts expect Apple's revenue and revenue to decline from the same period last year. Apple has seen this only once since 2001.
Central Political Bureau collective learning blockchain individual stocks continue to be hot speculation and pay attention to relevant opportunities
According to Xinhua net, Xi Jinping, chairman of the Central Committee of the CPC, stressed the importance of the block chain as an important breakthrough in the core technology of independent innovation in the eighteenth collective learning of the Central Political Bureau. Lu Lei, deputy director of the safe, said in a speech at the first Bund financial summit on Sunday that the safe is promoting the application scenarios of blockchain technology and artificial intelligence in cross-border trade financing and macro Prudential Management.

When the central government readjusted the blockchain, blockchain stocks continued to be hot, which led to a discussion in the capital market. According to statistics, questions related to blockchain have been asked 830 times in Shenzhen Stock Exchange and 7 times in Shanghai Stock Exchange in recent two days. Last Friday, stimulated by the blockchain news, Xunlei soared 107%. Who will be the "next Xunlei" of Hong Kong stock market and US stock market? Relevant blockchain concept stocks sorted out by Jinshi are as follows:
Hong Kong blockchain concept stocks - Huicong group, China Mobile, xiongan technology, Qianjin holding, Tongcheng holding, Tencent holding, Jinshan software, Zhongan online, panda green energy, Gome retail, Xiaomi group, Songjing technology, Meitu company, Yuanzheng technology, etc.

Us blockchain concept stocks -- Xunlei, No.9 City, China Grid carrier, cheetah mobile, paipaipaidai, Siku, Jingdong, Lanting Jishi, Alibaba, Baidu and other zhonggai stocks; riot blockchain, overstock.com, Facebook, Oracle, Intel, Wal Mart, Microsoft, longfincorp, etc.
Blockchain became the focus of capital market for the first time, which can be traced back to 2016. In addition, according to statistics, in 2018, Alibaba, IBM, MasterCard, China Unicom, China Ping An and other large enterprises were selected as the top 10 global blockchain invention patent applications. There are many patents, but the blockchain is not hot. The reason may be that the market positioning of blockchain is vague. At present, there are only a few applications of blockchain technology, and the most discussed one is bitcoin or other virtual currencies. According to the latest research report of Zhongtai Securities:
"With the improvement of the status of the blockchain industry ecological strategy, we should grasp the relevant investment opportunities from three main lines: first, we suggest that we pay close attention to the relevant opportunities under the blockchain theme investment in the near future; second, we suggest that we pay attention to the big financial sector driven by the application of blockchain technology, which is good for financial innovation; third, information technology such as blockchain, 5g and AI has become a war to seek new competitive advantages The strategic direction is to continue to focus on technological innovation enterprises led by hard technology. "
【Risk early warning】
☆Hong Kong stocks, such as ZTE, BYD and PetroChina, will report their third quarter earnings this week. In terms of US stocks, technology giants will still weigh heavily next week, and companies such as apple, Google and Alibaba will release earnings. According to Reuters data, Apple's revenue in the fourth quarter is expected to reach 62.91 billion US dollars, a slight increase over the same period last year. Alibaba is expected to record 116.798 billion yuan of revenue, a 37.1% increase over the same period last year.
☆新股动态方面,这周亚盛医药将登陆港股市场。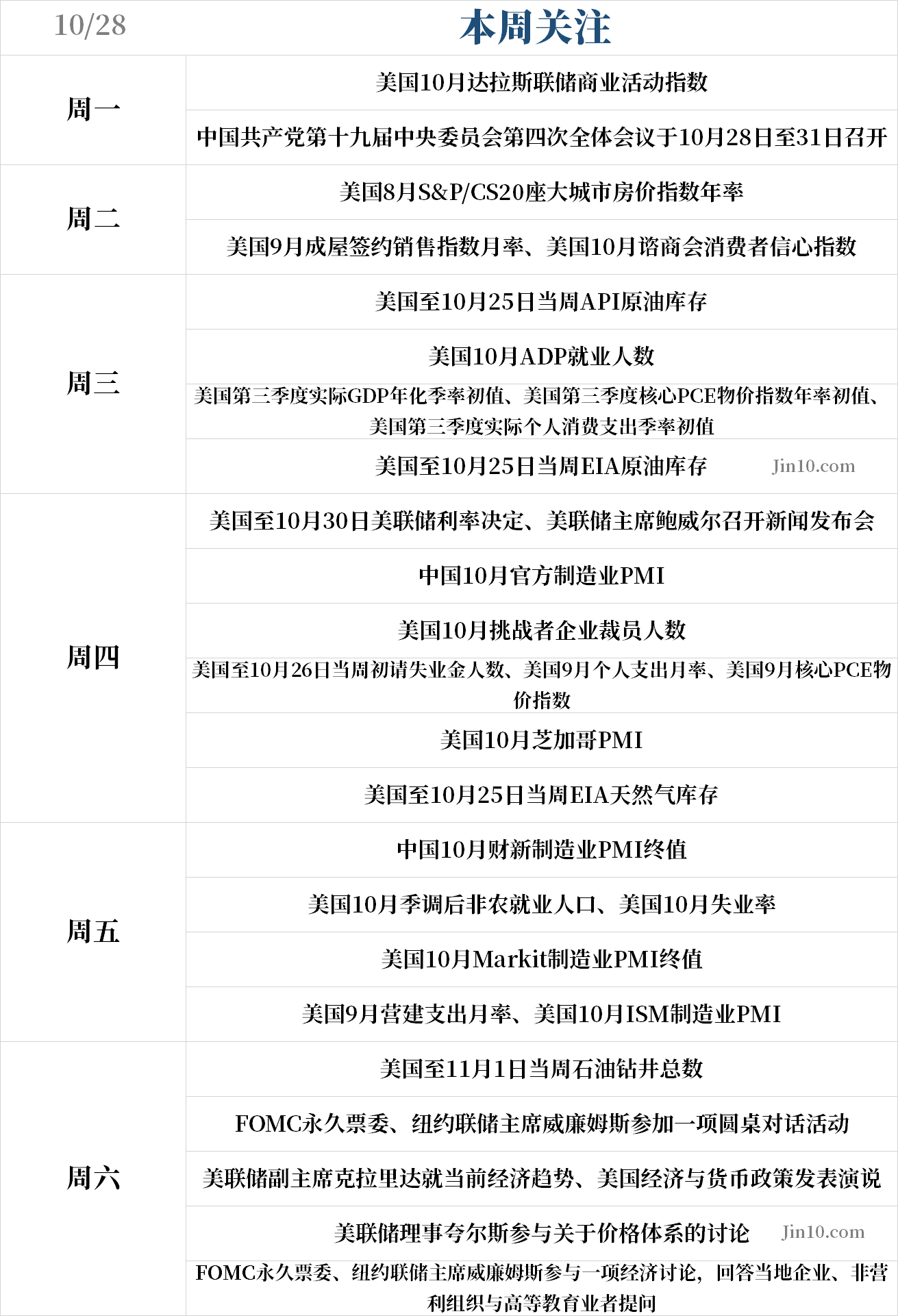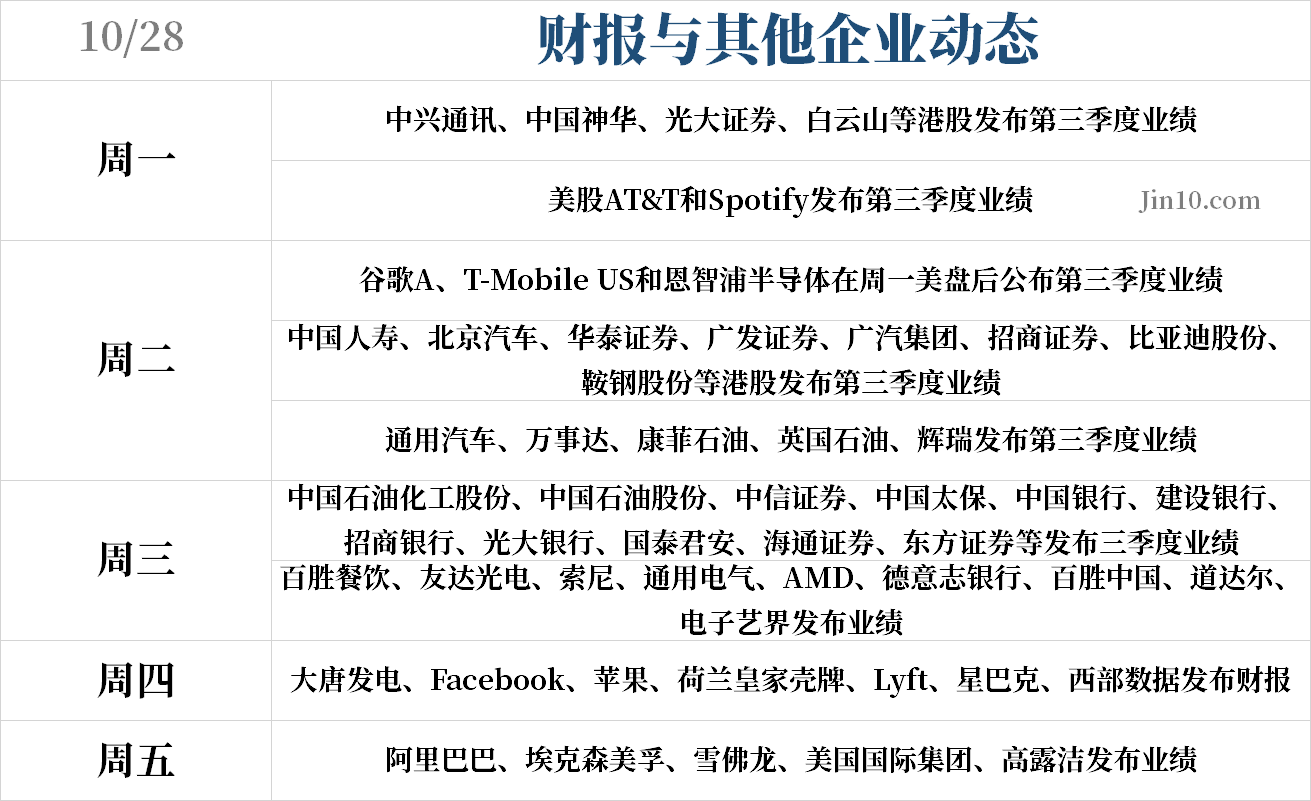 Disclaimer: the copyright of this article belongs to Jinshi data. Without written authorization, any business organization, website, company or individual is prohibited to reprint or reuse the information in this article. Any violator shall be punished.